Flexible flight search
Traveling can be thrilling, life-changing and memorable. Planning a trip can be daunting, stressful and demoralizing. The desire to remove the hassle of planning travel came up over and over during user research and directed storytelling. Some users wanted to travel freely between countries and choose their own adventure without being waylaid by international travel laws. Others assumed that surprise fees and uncomfortable travel were unavoidable. One user stated this succinctly as, "A good flight is a forgettable one." The user goal determined through directed storytelling was:

"Our user is a young adult air traveller who wants to avoid delays, cancellations, hidden baggage fees and travel comfortably while finding the best price available. They are willing to travel to alternate destinations and make connection plans themselves for significant savings."

With the user's goal distilled, the design team began imagining how to solve the user's problems and help accomplish their goal.
Wireframes were sketched to flesh out ideas.
To Clean up the design, sketched wireframes were then digitized.
In preparation for prototyping, the design team then created a UI screenflow. This visualization helps ensure that users can access all areas of the site. It also ensures flexibility for the user's path and aims to prevent overlooking the development of key assets.
Interactive Prototyping and usability testing
To determine if our prototype was on the right track, the design team created an interactive prototype of the search tool and conducted usability tests. Demographic information was collected from the participants about their work and internet usage habits. Users then gave consent to being recorded and were told their speech and screen interactions were going to be recorded. The usability test then asked target users to use the site as they would at home without direction from the test administrator, while explaining aloud their thoughts and observations along the way.
The usability test generated many valuable insights. Overall the usability tests showed two things most clearly. First, the essential promise of the goal distilled during directed storytelling interviews was not captured in the prototype. Users did not understand how this site would be differentiated from existing tools. Instead they assumed that common pitfalls of air travel bookings would be present in this prototype as well. Second, unclear communication and design intent will lead users astray. The users, although sharing a similar goal, all approached meeting their goal differently. Some preferred to bypass creating an account in favor of testing the tool before giving any personal information. Others lost trust in the site because of non-functioning prototype elements and poorly placed buttons. Usability testing at this early stage of a prototype is valuable. The insights learned here will be markers for future usability development and will push future early prototypes forward.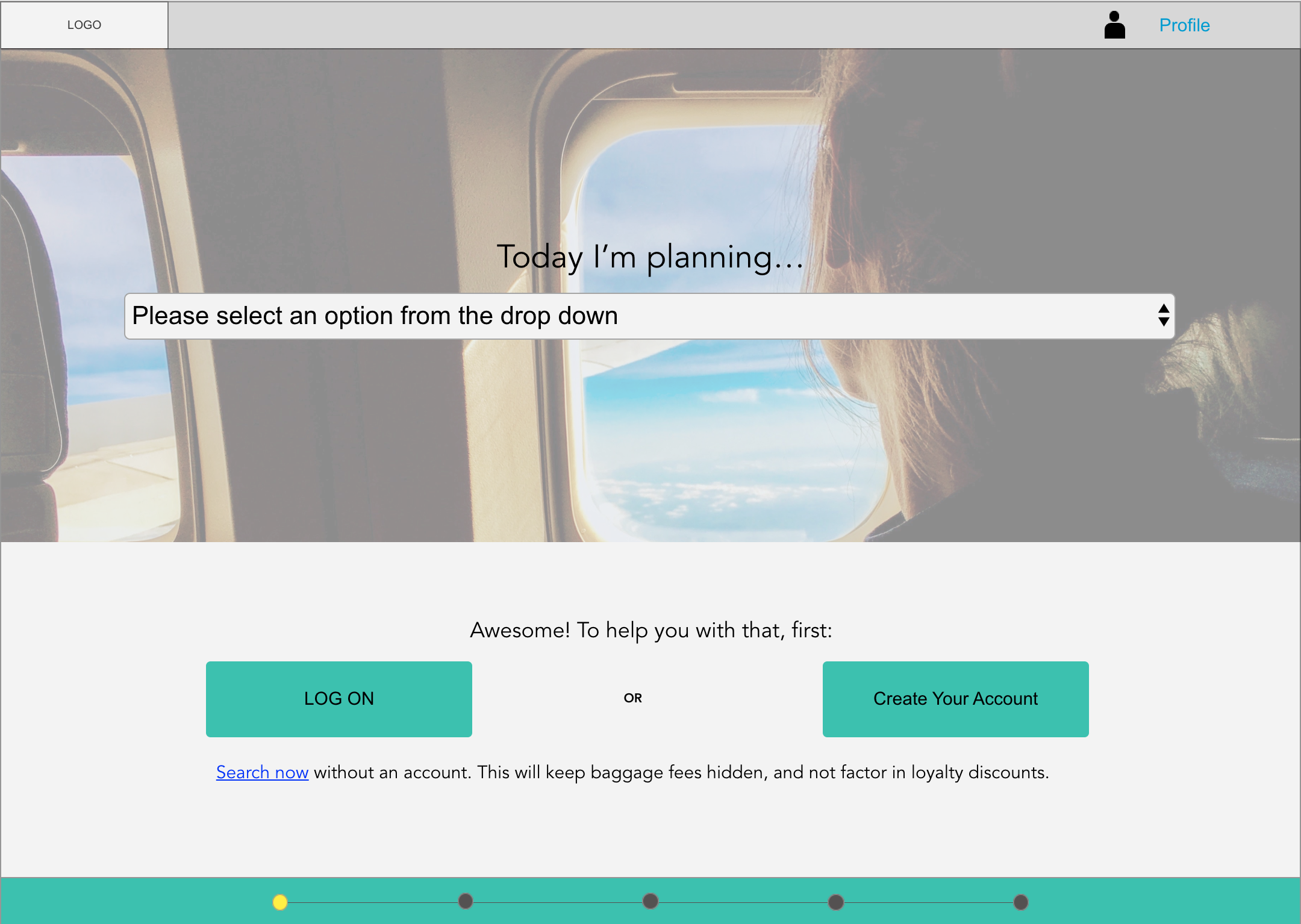 Given the resources available, the design team made changes to the prototype which promise to have the biggest return. User instructions and buttons were placed to increase visibility and reflect visual hierarchy. Language throughout the site was clarified to help users understand the intent of fields and how their information would be used.